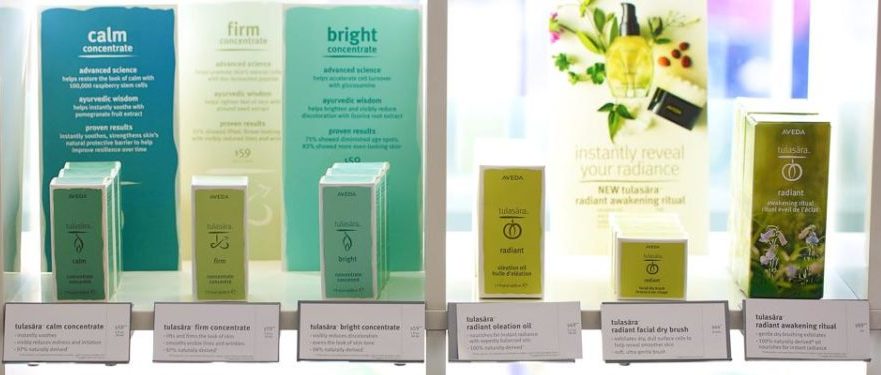 massage & facial
A customized AVEDA Facial or Massage focused on what your body needs most. Facials will target high performance results based on your skin care requirements. Massages range from light and relaxing to deep and focused. All spa services include personalized techniques to relax and soothe sore muscles and are infused with your favorite aveda aroma to increase circulation, eliminate toxins and reduce stress.
thirty minute facial or massage
$40
sixty minutes facial or massage
$75
ninety minutes facial or massage
$100
thirty minute facial or massage
$40
enhancements for your massage and facial $25 each
+ hot or cold stones
+ perfecting plant peel
+ vitamin c facial
+ mini makeup application
+ foot scrub and hydrating mask
---
body treatments
chakra balancing treatment
one hour body treatment that infuses all 7 chakra aromas with hot stones to balance your body and mind with a light facial and body massage.
$75
restorative body treatment
restore wellness with a mini facial followed by an upper body massage, scalp massage, hand and arm massage and foot massage all infused with aveda's stressfix aroma.
$75
dermaplaning
removed unwanted dull skin and fine hairs and renew your skin with this new facial technique that gives a flawless finish
$75
---
packages
four 60 minute facial or massage
mix and match
$260
four 90 minute facial or massage
mix and match
$360
perfecting plant peel
fifteen minute
$35 add on
thirty minute
$55 alone treatment
series of 3 treatments
$145
(2-4) weeks apart and within 6 months)
---
lashes
lash tint
lasts 4-6 weeks
$25
brow tint
lasts 4-6 weeks
$25
lash lift
permanently curl your natural lashes with this 6-8 week long treatment
$45
splash lashes
set of 25 lashes per eye to give a little extra boost to your natural lashes
2 week refill
$30
3 week refill
$50
lash extensions
$250
volume lashes
$300
increase volume and length with lash extensions
2 week refill
$50 / $60
3 week refill
$65 / $75
4 week refill
$85 / $95
---
waxing
express facial waxing
$15
back or chest wax
$45
lower/full arm wax
$30 / $45
lower/full leg wax
$30 / $45
bikini wax
$45
---
semi permanent makeup
consultation required for all services
consultation
one hour session
$50
eyebrows / microblading
$400
lip liner
$350
full lip
$450
eye liner top
$350
eye liner bottom
$350
eye liner top & bottom
$600
eye shadows
$350
areola consultation
one hour session
$100
enhancement
$500
correction / enhancement
$700
build
$800