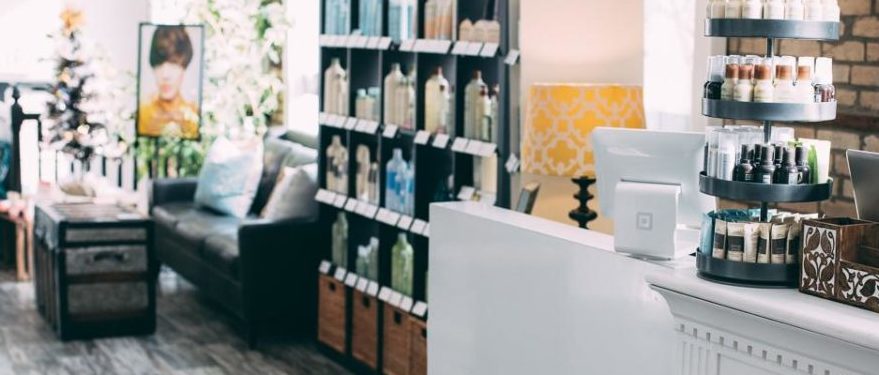 We pride ourselves in offering a safe experience for our team and guests during this unprecedented time. From additional sanitizing procedures to regulated personal Protection Equipment, Vogue Salon & spa is committed to ensuring a positive and healthy experience. Some of the practices you can expect to see when you arrive for your next reservation: 
We will be operating at 50% occupancy
There will be no waiting area available and all guests will receive a text or a call prior to entering to maintain a 50% occupancy
At this time, we are not taking new guests
Masks/Face Shields are required for all team members

 

All guests will be required to wear a mask
All stations will be placed 6-feet apart and indicators will be placed to help guide guests through while maintaining a 6-foot distance
A One-Way traffic path will be enforced where applicable
Plexiglass will be set up in areas that do not offer a six-feet distance
Anyone entering the building will be required to have their temperatures taken and recorded following HIPAA Compliance
Additional sanitation measures are being taken to ensure all surfaces are cleaned between guests and no products are shared
High traffic surfaces will be cleaned frequently throughout the day
Every team member has been Barbicide trained and trained in our space prior to reopening to ensure all safety measures are taken
8:15am appointments will be reserved for High Risk Guests
No blow dry services will be offered

 

We will be open 7 days a week, offering additional hours to accommodate the influx of reservations

 

Liability release forms are required for every team member and guest 24 hours or less for anyone entering the building
Beyond these measures, we have a full COVID-19 Action Plan Handbook for our team that highlights best practices to help ensure our team is prepared for whatever may come our way. Part of our commitment to be strong community leaders is to ensure we are doing the right thing, even when it is hard. We can confidently reopen our doors knowing we are taking every measure to ensure the safety of our team and guests so even if there was a possible exposure, we would all be safe from getting the virus. Otherwise, we would not be reopening as we have team members, family members and guests who are in the High-Risk Category. 
If you have recently traveled (within the last 14 days), been knowingly exposed to COVID-19, or have symptoms, we ask you do not make a reservation with us for a minimum of 14 days. Below is a link to our Liability Release Form for you to review. Please keep in mind, you do not need to fill this out until 24 hours or less prior to your reservation. We appreciate you as our guest and promise to continue communicating with you frequently throughout these times.
Being kind to our environment and our guests is our top priority. We are committed to offering exceptional service in a earth friendly atmosphere. Using 97% naturally derived hair color, skin care, body care, and hair products, we truly believe that Beauty is what Beauty does.
It is all about guest experiences. From complimentary moments of wellness with every service to a fun, and inviting atmosphere we want you to feel comfortable and leave satisfied.
We believe in educating our team to stay current on trends and techniques. Our team is educated by our very own in salon coaches who travel all over the united states to learn from top educators. In addition, we offer different levels of service providers based on their education and expertise so we can find the perfect fit for our guests at a price point everyone can afford. In the end, we have a growing team and a happy guest.
Our team is composed of creative service providers that are free to express their individuality and care for our guests. Each team member is as unique as the next, so finding a perfect fit for a great experience is our mission because we see your appointment as more than just a service, but as a trusting relationship.
We are committed to building a strong community, in our salon and in our town. From community events to creating lasting relationships with our guests, we love to connect with the world around us. You can see it in the way we interact with each other, our guests, and the local businesses that help support a thriving town. Because we love what we do.