includes cuticle and nail maintenance, choice of soak, aveda hand relief massage and polish of choice
choose from a gel led no chip, high shine manicure or dazzle dry, a polish that can be removed at home for a flawless finish on your manicure with high-shine, long lasting durability and lacquer-like finish. add $10 to any pedicure to upgrade to dazzle dry. 
gel polish removal with manicure $20
a soak to remove gel polish
includes nail shaping and polish of choice
includes nail shaping and polish of choice for those under the age of thirteen
customize your experience with your choice of aveda aroma: beautifying, stressfix, rosemary mint, or shampure
signature spa pedicure $75
the ultimate experience for tired toes and dry skin. based your choice of aveda aroma: beautifying, stressfix, rosemary mint, or shampure and complete with a customized foot mask and extended foot and leg massage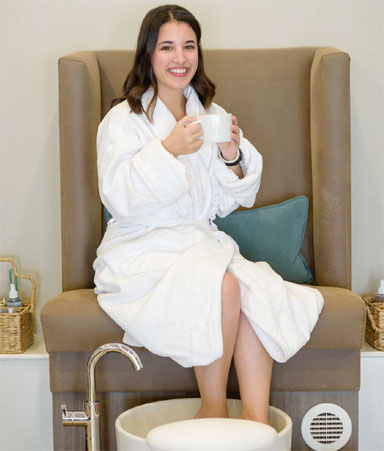 great lakes stone pedicure $85
this rejuvenating pedicure infused with aveda's rosemary mint and leaves your feet feeling refreshed and renewed. this specialty pedicure uses hot stones to massage your legs and feet for enhanced relaxation.
cherry almond pedicure $85
this delicious treat for your feet is infused with aveda's cherry almond body care. included is a specialty scrub that helps remove dry skin and leaves your feet soft and moisturized with the sweet aroma of cherry almond.
our lilac spa pedicure is infused with lilac and shampure aroma to enhance your mackinac island experience. a hydrating foot masque and a hand and arm massage has you leaving smelling like the lilacs on the island and feeling relaxed. 
treat your feet to the ultimate relaxation starting with a warm soak infused with sea salt, cbd, turmeric, neem oil, mustard seed and grapefruit, a bright fresh and spiced aroma to revive even the most tired toes. this anti-inflammatory pedicure is a must as it includes a scrub with the same blend, followed by a foot and leg massage with cbd oil infused with grapefruit, lavender, and spearmint. a combination to not only revive the tired, but uplift and moisturize.