includes cuticle and nail maintenance, choice of soak, aveda hand relief massage and polish of choice
LED light cured polish that lasts up to two weeks with no chipping and high shine
gel polish removal with manicure $20
a soak to remove gel polish
includes nail shaping and polish of choice
includes nail shaping and polish of choice for those under the age of thirteen
customize your experience with your choice of aveda aroma: beautifying, stressfix, rosemary mint, or shampure
signature spa pedicure $65
the ultimate experience for tired toes and dry skin. based your choice of aveda aroma: beautifying, stressfix, rosemary mint, or shampure and complete with a customized foot mask and extended foot and leg massage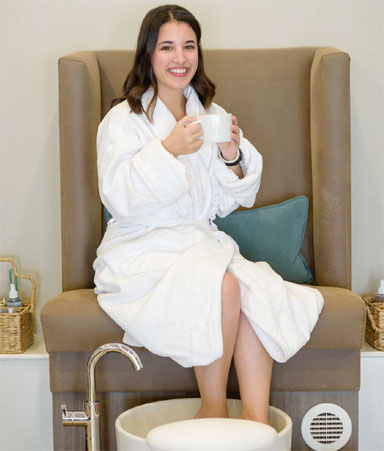 add any of the following to your nail services to enhance your experience for $10 / each. please allow up to 15 minutes of additional time per enhancement.
revive tired feet with a hot stone massage. a stone is placed between each toe and then a hot towel wraps around
each foot to relax and revive tired toes.
this invigorating salt scrub will wash away any dead skin and help tired hands and feet glow. followed by a hydrating massage, and infused with your favorite aveda aroma.